Aston Martin Vantage V8 Start installation Airride
The official website of AirBFT Airride will share with you the case of an Aston Martin V8 Vantage refitted from Indonesia. He installed the AIRBFT Airride kit, which looks very charming.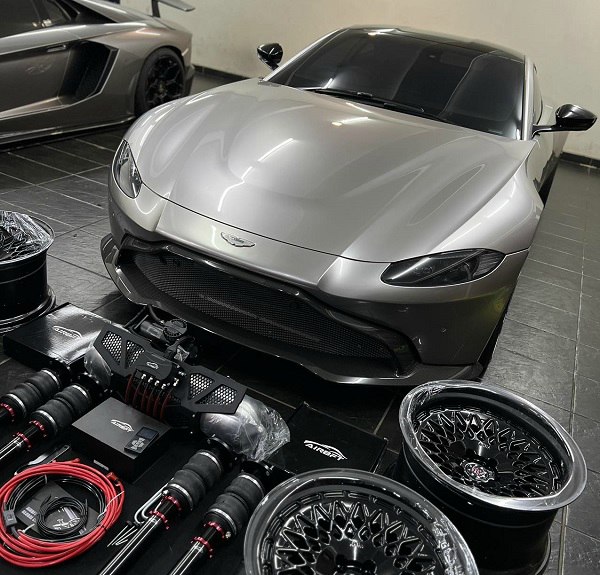 Related links:New Aston Martin V8 Vantage Airride"A toy"
The maximum horsepower of the 4.7-liter V8 engine of Aston Martin V8 Vantage is 420 hp, while the maximum horsepower of the S model is 430 hp, and the maximum torque is 489 Nm. The standard 6-speed manual transmission and the optional 6-speed SportShift automatic transmission replace the original 7-speed SportShift II transmission. The V12 model will use a 6.0-liter V12 engine, with a maximum horsepower of 510 horsepower and a maximum torque of 569 Nm. Its 100km acceleration takes 4.2 seconds, and the extreme speed can reach 304 km/h.
The headquarters of Aston Martin is located in Gatton, England. Aston Martin was founded in March 1913. The founders are Lionel Martin and Robert Banford.
British auto company Aston Martin is expected to confirm the news that it will be listed on the London Stock Exchange on August 29, 2018.
On January 13, 2020, it was selected into the award-winning list of 2020 Hurun to Shangyoupin.
The new Vantage is based on the forward-looking design of DB10, adding the design elements of Vulcan, the super sports car, to excavate the outstanding sports ability of Aston Martin, and is affectionately called "Little Vulcan" by Chinese car fans. Civil cars and endurance racing cars are developed simultaneously, and the chassis and frame are shared. Aston Martin's racing experience injects a strong track gene into the new Vantage. Pure manual interior and 350-litre trunk space.
Product positioning: tough to tame, sports car
·4.0-litre twin-turbo V8 engine
·Maximum speed: 314 km/h
·Maximum torque: 685 Nm/2000-5000 rpm
·Acceleration: 0-100 km/h acceleration time: 3.6 seconds.