China Taiyuan white Toyota 86 airbft airride
Airbft air suspension website introduces:China Taiyuan white Toyota 86 airbft airride,Compared with the more avant-garde and textured design of the concept car, the mass production version is simple but more pure.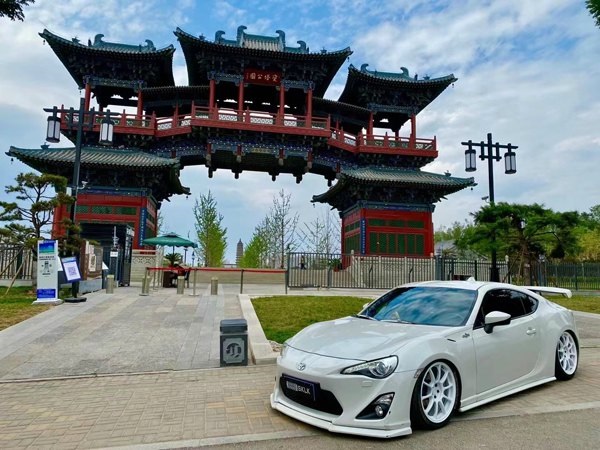 Toyota 86 is named after the abbreviation of future Toyota 86 concept. Toyota 86 means the future Toyota New 86 concept car. Toyota 86 is used as the successor of corolla Levin (Toyota AE86).
Toyota 86 was originally scheduled to be officially produced in 2011. However, Toyota believes that there is still room for improvement in the design of the FT-86. In addition, the external economy may not be enough to support the sales market of the FT-86, so it is temporarily suspended. In April 2012, it was officially sold in Japan under the name of 86.
Toyota 86 was officially launched in China on March 12, 2013. As an alternative to Toyota AE86, Toyota 86 is also positioned as a vehicle with high cost-effective rear drive handling performance. It will include manual and automatic models in China, with a price of 269000 yuan and 279000 yuan respectively.
The newly developed Toyota 86 adopts Toyota's platform design. It was born from the newly developed sports car platform of Toyota group, and also benefited from Subaru brz and SAIN fr-s. The European and Japanese markets will focus on 86, while the US market will focus on SAIN fr-s, while Subaru brz will focus on the global market.
Toyota 86 (the concept car is called Toyota FT-86 concept) is a global strategy fr small sports car that Toyota Motor of Japan first appeared at the 2011 Tokyo International Motor Show. The concept car FT-86, which appeared at the Tokyo auto show in 2009, is a product of cooperation between Toyota and Subaru. The body shape is dominated by Toyota's ED2 design center in the south of France. The gearbox and drive system are also designed by Toyota. The engine is a boxer horizontal opposed four cylinder engine designed by Subaru and introduced into Toyota's d-4s in cylinder direct injection system and high-speed design.
Related links:Toyota AirRide case