The second generation Mazda MX-5 airride is "charming"
AIRBFT air suspension official website introduces:The second generation Mazda MX-5 airride is "charming".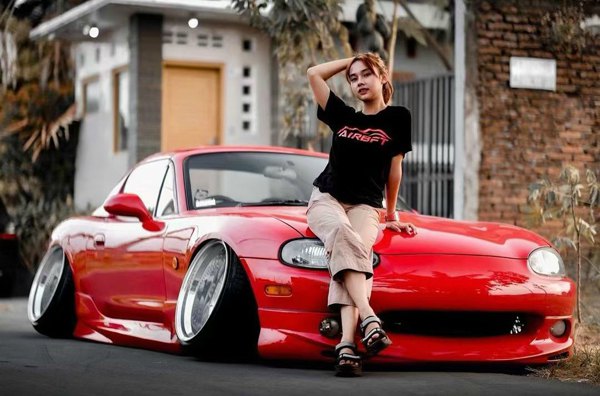 In February 1989, Mazda MX-5 convertible sports car made its world debut at the Chicago Auto Show, and announced a price of 14000 dollars. It began to be sold in the United States and Canada in May, in Japan in September of the same year, and in Europe in 1990.
The body size of the original MX-5 is 3950 × one thousand six hundred and seventy-five × 1230 (mm), wheelbase 2265 mm, curb weight only 955 kg, equipped with a 1.6-liter in-line four cylinder naturally aspirated engine, maximum power 115 hp, peak torque 135 Nm. Although the account data of MX-5 is very general, it does not affect the driving pleasure of MX-5. In fact, due to the light body and flexible handling, Mazda MX-5 has won the favor of numerous car enthusiasts and achieved great success in the global market. With the fire of the first generation MX-5, Mazda showed the second generation MX-5 (code name NB) sports car to the world at the Tokyo Auto Show in 1997, and it was sold in the United States in 1998, starting at $19770. Compared with the original generation, the second generation MX-5 has increased in body size, cancelled the design of turn over lights in appearance, and has become more sharp and distinct in body contour lines, but its overall shape remains the same as that of the original generation. In terms of power, the second generation MX-5 uses a 1.8-liter naturally aspirated engine with a larger displacement, with a maximum power of 140 horsepower, a peak torque of 162 Nm, and an engine compression ratio of 9.5:1 from 9.0:1.
In the millennium, the second generation MX-5 was modified, and the model code was changed to "NB2". In addition to the optimization and adjustment of interior and exterior design, the biggest change was the improvement of performance. The 1.8L naturally aspirated engine added variable intake timing technology, and the maximum output power was adjusted to 152 horsepower. In the subsequent high-performance version of the Roadster Turbo launched in 2003, Mazda has equipped a 1.8T turbocharged engine for the first time, which can produce a maximum of 180 horsepower. With a 6-speed manual transmission, the 0-100km/h acceleration time is only 6.4 seconds, further improving Mazda's driving pleasure concept of the Zoom Zoom.
Related links:MAZDA AIRRIDE KIT