Kia K7 airride white car clothes he is in Korea
Airbft air suspension website introduces you:Kia K7 airride white car clothes he is in Korea,Of course, colorful atmosphere lights will also be used in the car, with a full sense of sophistication.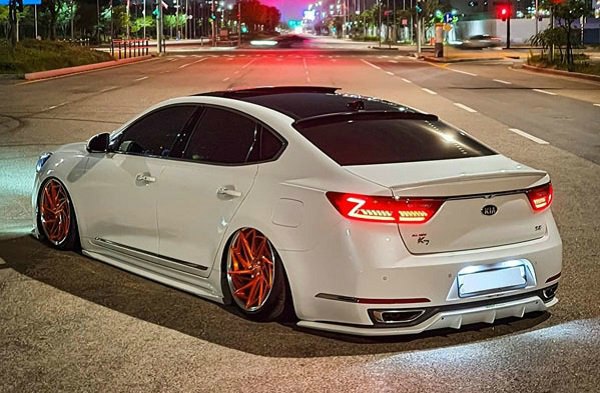 K7 kaizun's overall shape is round and smooth. The high waistline crosses the body, folds down at the front door, and rushes out a perfect arc, creating a dynamic momentum. Moreover, the whole roof is almost occupied by the panoramic sunroof, and the black roof creates a luxurious atmosphere. K7 kaizun belongs to the type of car that can be remembered forever at a glance. Of course, whether this memory is good or bad depends entirely on everyone's different aesthetic judgment. The size of the K7 can be seen as slightly larger than the regal and slightly smaller than the new LaCrosse, which may be more intuitive.
The current K7 uses three engines, all with in cylinder direct injection technology. The low configuration version is equipped with a 2.4-liter in-line 4-cylinder gasoline engine, which is believed to account for the largest sales. In addition, there are two V6 engines available: 3.0L and 3.3l. K7 on sale in China are ordinary in-line 4-cylinder engines. The maximum horsepower is only 180. The new 4-cylinder engine will have 201 horsepower.
The new Kia K7, from the perspective of design concept, adopts the classic tiger roaring air intake grille, which is a bit of Maserati's visual sense. In addition, the new car's headlights use an open corner design, coupled with lightning shaped daytime running lights, which makes the whole car extremely aggressive. From the Perspective of body side design, the new car's sliding back shape is very dynamic, and the waist line used by the whole car extends from the front of the car to the rear of the car, It looks very advanced. For young consumers, the appearance of this car is still very good.
Related links:KIA AIRRIDE