Blue Audi A3 airbft airride"Gorgeous city"
Airbft air suspension website shares with you:Blue Audi A3 airbft airride"Gorgeous city",The driving space full of a sense of future and a sense of attack makes each driving not only pleasing to the eye but also more enjoyable.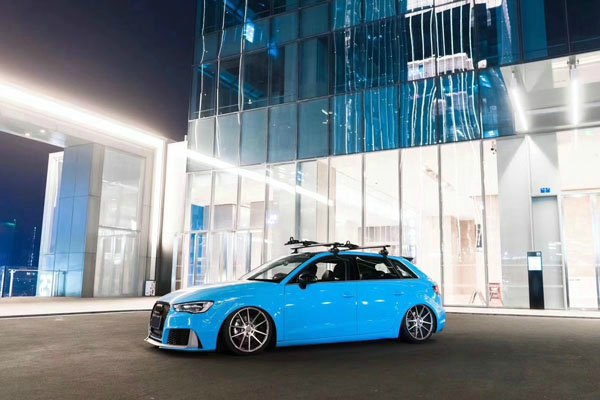 Audi A3 is a car product produced by Audi. It is developed based on the Volkswagen MQB platform. The body adopts lightweight design and aluminum materials. It is powered by 1.4tfsi and 1.8tfsi engines.
The front suspension of Audi A3 chassis is McPherson type, and the rear axle is a torsion and crank type structure with separately arranged springs and shock absorbers. In addition to excellent handling, the space utilization rate of the rear suspension arrangement is also very high, so the cargo area is outstanding among the vehicles of the same class. For all A3 series models, the front and rear brakes are disc type, and the front brakes are equipped with ventilation grooves.
A3 has all the characteristics of all sports models, and probably no one can refuse it for any reason. A3 has its own style, which represents a pure personal style. Compact appearance, clear outline and impeccable tail design; There are two gasoline engines and one diesel engine available. The gasoline engines are: 1.8 L five valve type, maximum power 92 kW, variable valve timing; 1.8 L five valve supercharged type, maximum power 110 kW. The diesel engine is 1.9 l turbocharged direct injection type with a maximum power of 66 kW. All engines are only matched with the five speed manual transmission and adopt the front wheel drive type. In the future, there will be more engines and transmissions to choose from. All the above engines meet the emission standards of "EU III".
In terms of appearance, the front face of the 2013 Audi A3 is still the familiar big mouth shape of the Audi family. However, after some modification, the hexagonal shape with more three-dimensional feeling makes it more like the A4 that was just modified not long ago, rather than the old-fashioned face that was a little rigid. Although there is some lack of novelty, it must be admitted that A3 has indeed become more beautiful and very durable.
Related links:Audi airsuspension