A new generation of lawnes genesis airride "this wheel hub data is perfect"
AIRBFT airride hanging platform for you to share:A new generation of lawnes genesis airride "this wheel hub data is perfect",The new generation of lawnes genesis is scheduled to debut in South Korea at the end of 2013. The car will be equipped with modern htrac all wheel drive system for the first time.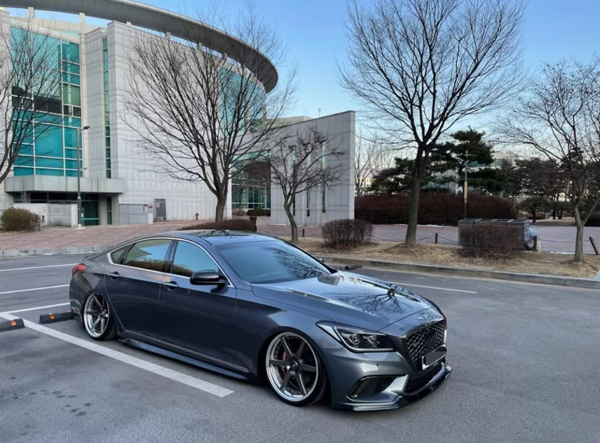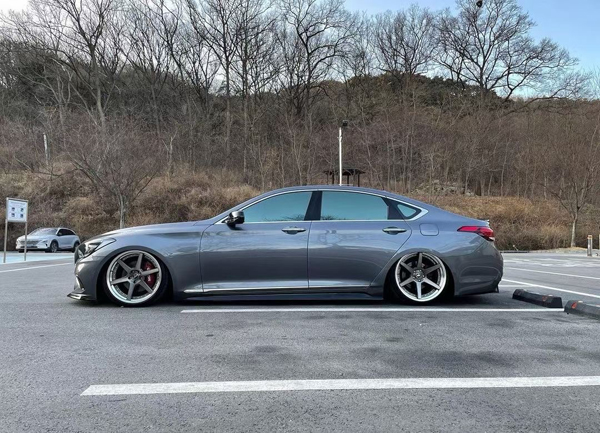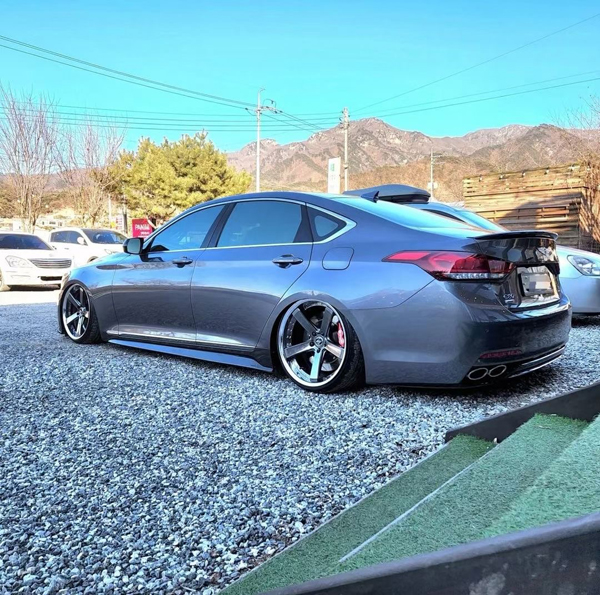 Modern htrac all wheel drive system is equipped with electronic torque regulation function, which can be automatically adjusted according to road conditions. In addition, the system provides drivers with a variety of driving modes. Hyundai has conducted relevant tests on htrac all wheel drive system at Nurburgring and South Korea Lingyan F1 track.
The new generation lawnes will be equipped with a 3.8-liter V6 engine with a maximum output of 248kw (337ps), and the high configuration model will be equipped with a 5.0L engine. The transmission adopts 8at gearbox. In addition, in addition to the above all wheel drive system, the new car also has a pure rear drive model to choose from.
The long-awaited 2019 genesis G70 high-end sports car hopes to reposition its brand by providing first-class driver centered performance, exquisite luxury and charming and sporty shape.
G70 body uses aluminum, high-grade steel and aviation grade adhesive. The new lawnes G70 also has the lowest overall height and the widest overall posture in the segment, giving it excellent dynamic performance. In terms of aerodynamics, this new compact luxury car returns to the sleek 0.28cd drag coefficient.
The entry-level model will be equipped with a 2.0L turbocharged four cylinder engine, with direct injection power of 252hp and peak torque of 260lb ft (352 nm). The turbocharged four stroke engine will be paired with the standard eight speed automatic transmission, but the sharper drivers will be happy to find that Genesis will also provide a six speed manual transmission in the option list (it is expected that this virtue will not enter China).
The manual G70 will provide a performance package that includes a slightly more powerful engine (255hp over 252hp), a unique sports exhaust system, high-performance Brembo brakes and additional weight reduction measures. No further details on the last part were provided.
The top dual turbocharged 3.3l V6 engine will provide peak torque of 365hp and 376 LB ft (510 nm), which is only applicable to the eight speed automatic transmission. Combined with the standard mechanical limited slip differential (four optional turbocharged transmissions) and Genesis's launch control, the rear wheel drive G70 V6 can reach 60mph in 4.5 seconds.
Both engines will also provide all wheel drive. Genesis said that the combination of rear mechanical limited slip differential and all wheel drive is unique in this part and provides clearer handling than its main competitors.
Related links:HYUNDAI AIRRIDE