Indonesia Mercedes Benz w108 AirBFT AirRide "mogul" fan came uninvited
AIRBFT Automobile culture communication center will introduce to you:Indonesia Mercedes Benz w108 AirBFT AirRide "mogul" fan came uninvited,As the fourth generation model of Mercedes Benz S-class, w108 abandons the "tail fin" design of the previous generation and returns to its classic design style again with simple lines. In August 1965, Mercedes Benz launched a new generation of flagship model designed by Paul bracq. With its elegant and restrained appearance and extreme focus on quality and design, w108 still exudes unique charm.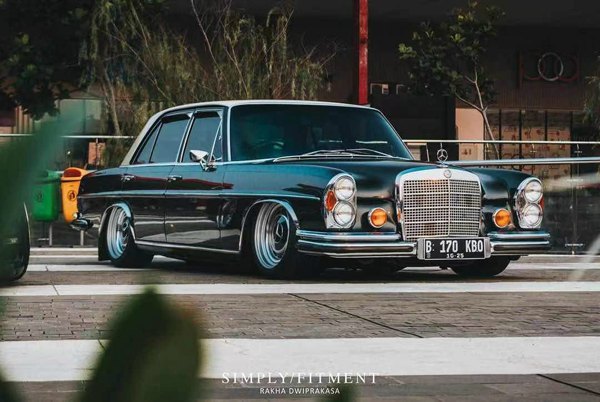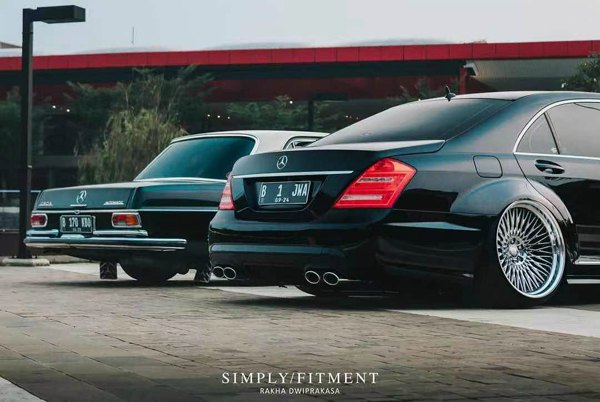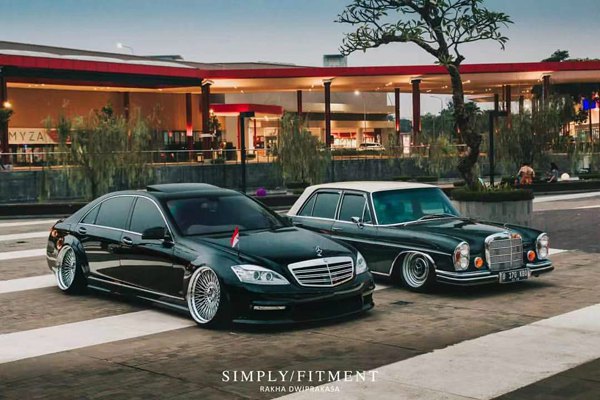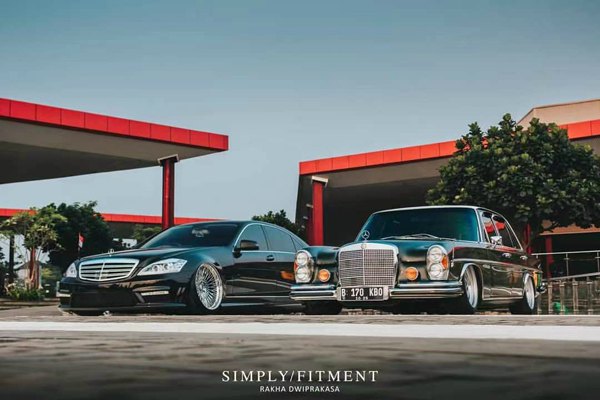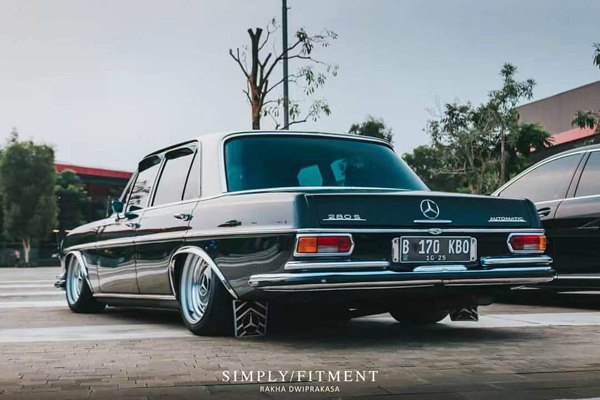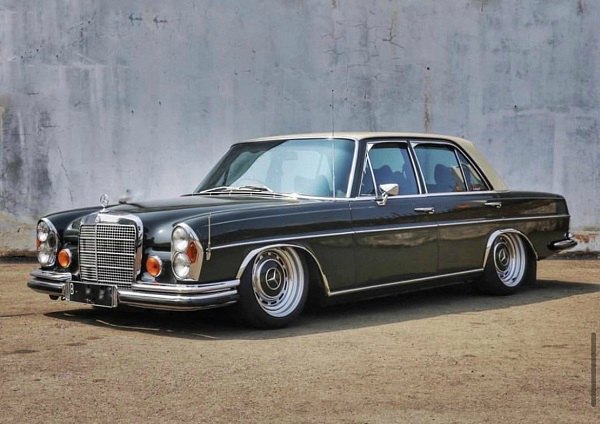 Friends who love performance cars must know the history of Mercedes AMG brand like the back of their hands. What made this brand famous in World War I was the Mercedes Benz w108 300 sel 6.3 AMG car that won good results in the Belgian spa 24-hour endurance race in 1971.
In terms of appearance, several iconic circular lamp groups at the front of the car have been retained. The side door adopts split design, which reflects the dignity of the car. The rear bar of the car has been removed and two exhaust lamps are exposed on the right side. The black paint and low body make it stand out in the crowded traffic. When the sun shines on the chrome wheel hub, it reflects gorgeous light, which can instantly catch the eyes of walkers.
Because they want the vehicle to maintain a lower attitude, a set of air suspension that can freely adjust the height is essential. The airbft control system ensures that it can work normally and fine tune the height. With large custom rims, the "big guy" style comes uninvited.
Mercedes Benz S-class is a series of the largest cars owned by Mercedes Benz, a branch of Daimler AG. This series was first launched on the market with w116 S-class, inheriting Mercedes Benz since the mid-1950s. As the flagship of Mercedes Benz, the S-class embodies many advanced technologies of Mercedes Benz, including power technology, interior configuration and safety system. S-class is the world's best-selling luxury flagship car. Its latest generation w221 S-class appeared in 2006 with a new design. In the past dynasties, w221 S-class has long wheelbase version and standard wheelbase version, and the power sources include V6, V8, V12, diesel power and hybrid power.
The name S-class is an abbreviation for German sonderklasse. Sonderklasse means "special level". When used in a car, it evolves into a specially equipped car. In the past, the S-class Coupe was called sec and later s-coupe. In 1998, they became independent from S-class and established CL-class series. However, the 2011 model year will be renamed s-coupe.
The Republic of Indonesia (English: Republic of Indonesia), abbreviated as Indonesia. It is a Southeast Asian country with Jakarta as its capital. It connects with Papua New Guinea, Timor Leste and Malaysia. Indonesia covers an area of 1913578.68 square kilometers and is composed of about 17508 islands. It is the largest archipelago country in the world, spanning Asia and Oceania. It is also a country with many volcanoes and earthquakes. Larger islands include Kalimantan, Sumatra, Irian, Sulawesi and Java.
With a population of 262 million, Indonesia is the fourth most populous country in the world. There are hundreds of ethnic groups, of which Java accounts for 45%, Sunda 14%, Madura and Malay 7.5% respectively. There are more than 200 national languages, and the official language is Indonesian. About 87% of the population believe in Islam, which is the country with the largest Muslim population in the world.
Jakarta, the capital, is located on the northwest coast of Java island, with an area of 740.28km ², With a population of 10.277 million, it is a national political, economic and cultural center, a sea, land and air transportation hub, and a shipping center between southern Asia and Oceania. As early as more than 500 years ago, Jakarta has become a famous seaport for exporting pepper and spices. At that time, it was called "Sunda graba", which means "coconut". In 1527, it was renamed chajakarta, which means victory and glory.
Related links:Benz airride photos